Ernest Hemingway
: Author. Hemingway owned 30 Cats. His most unusual cat was a six-toed cat given to him by a ship's captain.

Sir Winston Churchill: Prime Minister of England [1874 - 1965]. Sir Winston owned an orange tabby cat named Jock. He commissioned a painting of Jock, who slept in his bed every night and was even taken to all the wartime cabinet meetings.

Nostradamus: [1503 - 1566]. The French Astrologer had a cat named Grimalkin.

Edward Lear: Artist and Author [1812-1888]. Edward was devoted to his tabby cat, Foss. His devotion was so great that when he decided to move to San Remo, Italy, he instructed his architect to design a replica of his old home in England so Foss would not be disturbed and suffer a minimum of distress after the move. Lear's drawings of his stripped tabby cat are well-known, especially those which accompany his rhyme, The Owl and the Pussycat. When Foss died, he was buried in Lear's italian garden.

Abraham Lincoln: American President [1809]. Abraham Lincoln came into presidential office accompanied by Tabby, his son's cat. Tabby was the first of several White House cats.

Sir Walter Scott: Poet and Author [1771 - 1832]. Author of Rob Roy and Ivanhoe. Sir Walter was also an editor, critic and deputy sheriff of Selkirk in 1799. Absorbed in folklore and the supernatural, Scott was devoted to cats, and a portrait of him by John Watson Gordon shows the author at work at his desk with his tabby, Hinx, lying close by. This Tomcat was known to terrorize Scott's dogs.

Sir Isaac Newton: Scientist and Philosopher. Sir Isaac, famous for his laws of motion and gravity, was a confirmed cat lover who was deeply concerned about the welfare of his feline friends. Therefore, so his research would go uninterrupted, and his cats should not feel restricted and be at liberty to wander freely in and out when the doors were closed, he invented the cat-flap.

Michel de Montaigne: French Author [1533 - 1592]. One of Michel's famous quotes: "When I play with my cat, who knows whether she is not amusing herself with me more than I with her?"

Alexander Dumas: Author of The Three Musketeers. Dumas owned a cat called Mysouff. This cat was known for his extrasensory perception of time. Mysouff could perdict what time his master would finish work, even when his master was working late.

Renoir and Monet: French Artists. The French artists loved cats and depicted them in several paintings.

Charles Dickens: Author. Charles' cat, Willamena, produced a litter of kittens in his study. Dickens was determined not to keep the kittens, but he fell in love with one female kitten who was known as "Master's Cat". She kept him company in his study as he wrote, and when she wanted his attention she would snuff out his reading candle.

Dr Albert Schweitzer: 1952 Nobel Peace Prize Winner. Schweitzer became ambidextrous because of his cat Sizi. When Sizi would fall asleep on his arm he began writing prescriptions with his other hand.

Dr Samuel Johnson: Compiler of the first dictionary. Johnson had a pet cat named Hodge whom he fed oysters and other luxurious treats.

Florence Nightingale: Humanitarian. Florence owned a large Persian cat named "Bismarck". She owned more than 60 cats in her lifetime.

Horace Wadpole: British Essayist. Horace Wadpole wrote lovingly about his cats.

Rutherford B Hayes: US President. The first Siamese cat brought to the United States was a gift to the President.

T.S. Elliot: Nobel Prize-winning British Poet and Playwright. T.S. Eliot was a cat lover and he wrote an entire book of poems about cats. His "Old Possum's Book of Practical Cats" was set to music by Andrew Lloyd Weber and became the long-running musical, Cats.

Theodore Roosevelt: Theodore had a polydactyl grey cat called "Slippers".

Theophile Steinlen: Swiss Artist. Steinlen's Paris home was known as "CatsCorner".

Victor Hugo: Author. Hugo is considered the greatest author in the history of French literature. He wrote fondly in his diary about his cats.

Harriet Beecher Stowe: American Author. Harriet had a large cat called Calvin. He arrived on Harriet's doorstep one day, moved in, took over the household, demanding food and asserting his rights. Harriet enjoyed his company and Calvin often sat on her shoulder as she wrote.

Other Famous Authors who loved and owned cats: Mark Twain, Paul Gallico, H.H. Munro, Walter de la Mare, Thomas Hardy, Lewis Carroll, Beatrix Potter, H.G. Wells, and W.B. Yeats.

Patrick Stewart: found his beloved cat (which he named 'Bella') on the set of STAR TREK: THE NEXT GENERATION (1987).

My husband
: This post is devoted to his beloved Kimchi who was laid to rest under our walnut tree just three days ago.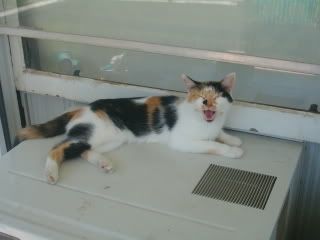 Kimchi
March 1998 ~ November 5, 2007